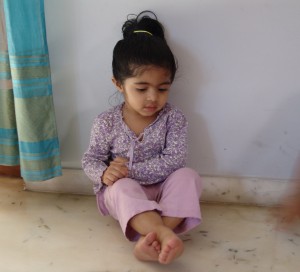 My little one turns two in a week. Two year olds are pretty hard to figure out themselves but they make figuring out life, people and relationships a lot easier. Let me explain …
We were all 2 year olds at one point. And then we grew up. Or did we? We just got more complex, I guess. We started to talk less, behave more civilized and controlled our emotions and desires. Flip that around and guess what? We started to assume more, be less spontaneous and less expressive. Our desires did not really go away but we tried our best to suppress them. While this may not be totally true I think most of us will agree that it is mostly true. So? So we are all really 2 year olds (in some convoluted way!)… only much harder to figure out. See? That is where my little helper comes in …
Here goes:
1. "MEEEEEE MA!" : Do NOT shove food in her mouth when she does not want to eat and do NOT try to help her with her clothes or shoes.
Translated: Every individual in life is unique. People change and grow up. Try to understand the person before you offer too much help. Sometimes a person might just need you to listen … be sensitive to a person's body language and non verbal cues to learn how much is too much.
2. "NOWWWW MA!" : This typically happens when she is asking for something and I am pretending to listen :).
Translated: Do not engage in a conversation with ANYONE when you are not willing to listen. Listening means you process what is said and respond right there and right then. If a 2 year old can figure out that you are pretending, so can anyone else and pretense is never good for any relationship (let alone the not listening bit!).
3. "HAPPY MA?" : Anger and fear/threats almost never work with my little one. Sadness almost always does. She cannot bear to see her dad or me sad. It is the quickest way to get her to do anything!
Translated: Never use fear and anger to modify a person's behavior and/or actions. While it might have the desired effect in the short term, it is always detrimental in the long term. Genuine relationships are driven by care and concern. The simplest way to get work done is by letting the person know that you are unhappy and why.
4. "NICE MA" : It is amazing to see how a two year old can appreciate the little things in life. Eyes wide open and the widest smile with a subtle dimple. Ahh, it gladdens my heart!
Translated: People work hard to make each other happy. Every little act of a friend/family member is a manifestation of the desire to make you happy. Recognize that. Appreciate, share and compliment them. Every single time. It is never "too many times" when it is genuine.
5. "HOLD!!!" : I might be grown up and want to do everything myself, but for now I need you to hold me!
Translated: Grownups need to be "held" as well. Learn to recognize how people that matter to you "ask to be held". Most importantly, learn to recognize the time you need to he "held". A little warmth from time to time is probably just what you need to send you off playing like a 2 year old!