I HAD to interrupt my previous series post to put up a post about Play – inspired by a Carnival of Play that PhdinParenting just hosted. As an afterthought, I realize that the concept of PLAY is very similar to the concept of powerful "microexperiences" – looked at from a slightly different perspective.
When I watch my 2.5 year old play her favorite games, I wonder what makes it play. Most things she LOVES doing are what I consider to be chores – emptying the dishwasher, folding laundry, dusting, walking the dogs …
And then I look at my own life – spending hours and hours of my life on my blogs and my startup – just because it is something I really enjoy, something I love to do….
When I think of what is common between the two – my daughter and I – I wonder why we do the things we do …. what motivates each of us to do these things that another human might never consider doing
It just seems that for one reason or the other, we do these things that we do because they give us a sense of sheer enjoyment. A sense of engagement and joy that could only make what we are doing an act of "play".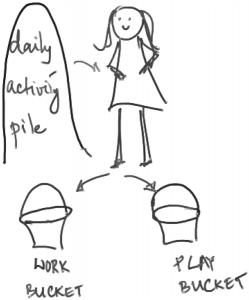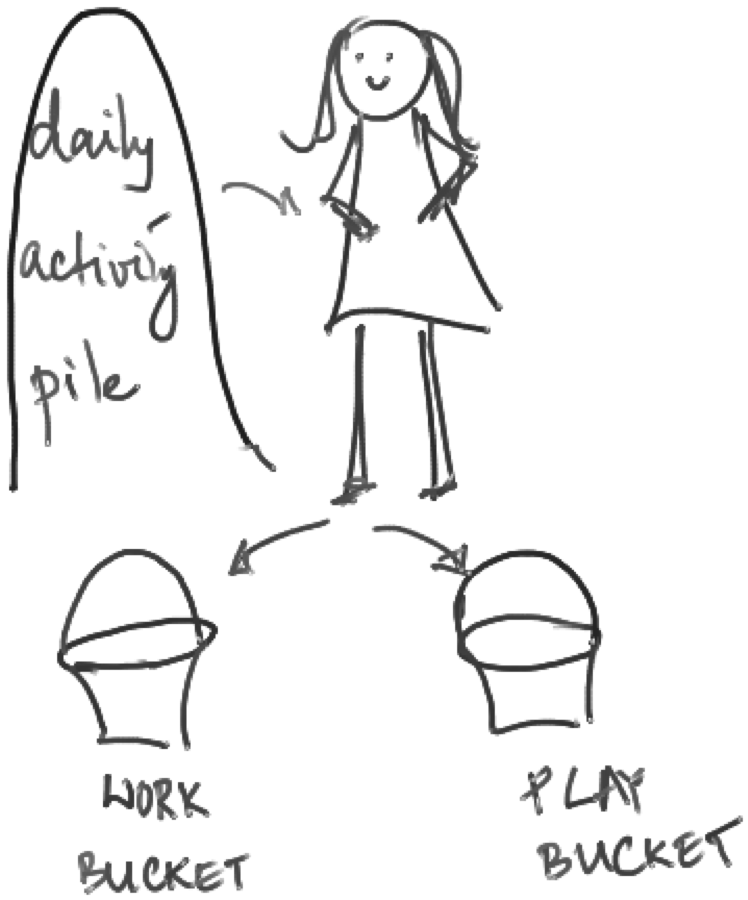 As I sort my daily activities into 2 buckets of WORK and PLAY, I see the characteristics of my PLAY bucket starting to form –
Play is a change of pace. Play is an activity different from the one we are doing. Sometimes that is all play is. Play for way too long and even play starts to seem like work!
Play is productive, play is fun.
Play is anything we enjoy.
Play energizes
Play rewards
Play is spontaneity
Play is something that causes flow – a flow of energy within us – an activity that consumes so well that it almost seems effortless.
Play is an activity that "pulls" us  – it is an activity that we indulge in because we want to – not because we HAVE to
My daughter loves any activity where she is my little helper. She LOVES the feeling for a group activity – learning from me, doing with me and gaining that appreciation. I entice her with nothing else that a fun activity together – together being the key word. She will do anything with me as  long as I am already doing it and am excited about it …
There in lies the secret – She is willing to convert any activity as play, as long as she-gets-to-experience-togetherness. At this point in her life, that characteristic is mostly what defines "play" for her.
BUT
What does all this mean? How can understanding "play" make our lives better?
Understanding what constitutes PLAY in our own lives is very very critical to living a sane life from one day to another. To me, it is the difference between being able to care for my little ones with a whole lot of patience versus being a horrible mother at my wits end. With work, it is the difference between someone just doing her job and someone doing a damn good job and being passionate about it.
And at times like today when I am home alone with my kids and HAVE to take care of them, I can plan my day to insert elements of play for both of us – for the kids AND for me. Cleanup time (I hate, they love), naptime (they hate, I love), food time (they hate, I hate) all need to be planned right to make it enjoyable for all of us.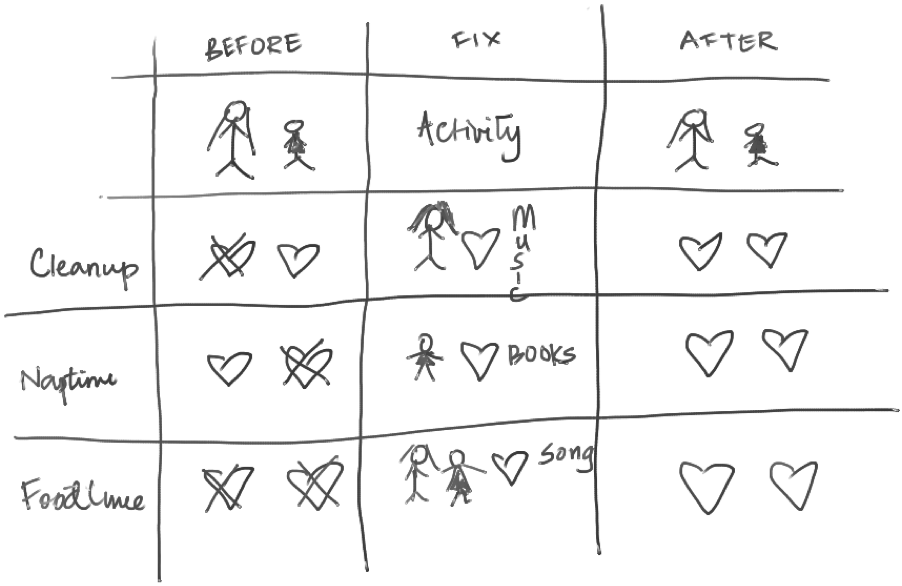 This is my take – the ability to understand our own internal drivers that cause us to perceive an activity as play, will let us choose the right activities and the right careers for ourselves. In the BIG scheme if things, it lets us decide what our limits are, what  we need on a day to day basis and what kinds of jobs we are more suitable for. In the microcosmic view, understanding "PLAY" in our lives gives us quick fixes for bad days, irritating times and even teach us some about how to get along with people and get going with the things we just cannot escape from.
So here is a rather quick way to find and incorporate PLAY into your life –

Step 1: Find YOUR play equation
The nature of PLAY = actions + experiences + results
This is what you do – Choose a few activities you LOVE and come up with a bunch of words for each of the categories – actions, experiences and results that cause you to love that activity.
What are your actions?
What is the experience?
What does it leave you with? What are the results?
What is it that you love BEST about that activity? Your actions, your journey, the result?
Once you have done all of that, you will start to see a pattern with what kinds of things you really love about what you consider PLAY. As you see in the table below, for me, the Experience is most important, followed by the result. All/most PLAY for me involves learning and should always result in a calmer me and calmer kids.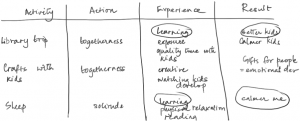 Try to do this and see what patterns you see emerge.
Step 2: Now USE the PLAY formula
Now that you have answers to that, choose one of these model –
1. Insert Play into activities – insert pockets of playtime into an activity. These could quite literally be coffee or your figurative shots of caffeine for your long and/or boring activity that you see as work.
2. Evolve activities into Play – Just don' t enjoy your job? Time to change it completely or evolve it into a job that incorporates your play elements.

Companies invest thousands of dollars into getting people to socialize in informal environments, because that helps people let their guard down some and have a good time while getting to know each other better. While right in theory, this rarely works as every single person's perception of play varies widely from another person's perception of play. So if you are managing a bunch of people, be sure to talk to them about what they consider fun before you go too far deciding what might be god for everyone …

As time goes by, I fear that my daughter's perception of what is play and what is a chore will change – be it due to life experiences or be it due to the pressures… How do I teach her to keep the play going? How do I teach her to find play in what the things she has to do or find ways to incorporate play into her work. I think it is about teaching her some truths and secrets….
THERE REALLY ARE ONLY 2 KINDS OF STUFF!
You gotto do what you gotto do STUFF -There are some things in life we HAVE to do. Like it or not. Chores will never go away -So transform these – sing along while you clean, do things with company, focus on the results and treat it as an opportunity to learn.
You don't have to do this STUFF – Teach them to get creative and find other ways to do it. Chuck these activities and choose activities that are better for us, keep us energized and in the flow.
I think understanding this basic truth  gives us the strength and ability to control and enjoy our lives to the highest degree possible.



What do YOU think? Is your work day filled with PLAY or does even PLAY seem like work to you?
How have you transformed your WORK into PLAY?