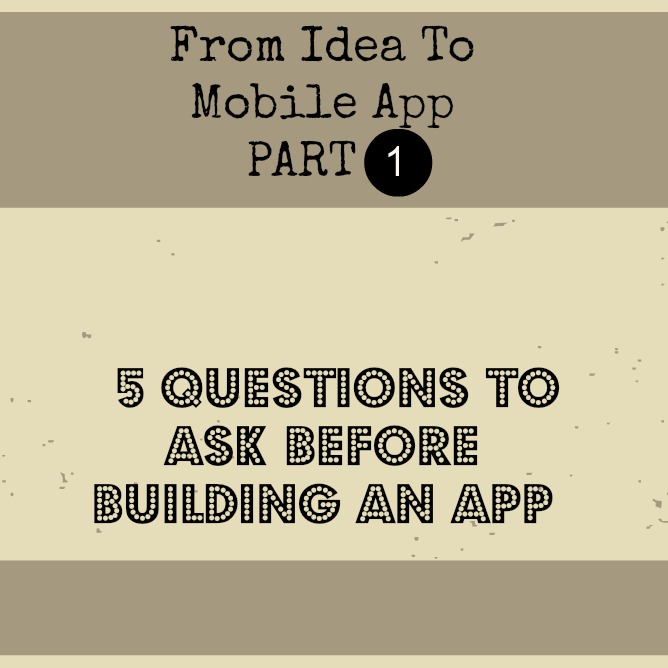 This year, at Blogher Pro, I am talking about How To Outsource Mobile. You should come to the conference if you can and if you have an app idea, leave a note or comment, so we can walk you through the process at the session!
I have spent the better part of the past 3 years building apps for MeMeTales. I have also been to a few Blogher conferences multiple times to talk about the business of building apps. This is the first of a series of 3 posts that will cover the business of app making from the beginning to the end.
So, let us get started then.
You have an idea. You are not swimming in cash. You need to make an app. What do you need to know? And how do you do it?
The answer to this is not simple, but let me break it down.  I will break it into 3 parts – the beginning, middle and end.
The "beginning"  is really about everything you should do even before you decide you want to really go ahead and build an app.
The "middle" is the process of getting ready to build the app.
The "end" is really the beginning of app development.
In this post, we will cover THE BEGINNING
The beginning is really about asking yourself the tough questions and making sure you have answers to each of those questions.
Question 1 :
WHY ARE YOU BUILDING THE APP?
There are so many apps out there already, you need to know exactly WHY you are building your app? In other words, ask yourself what exact problem you are going to solve with your app? What life changing impact will your app have?
All small ideas start with a grand vision and you need to have an eye on the grand vision or grand impact you will have.
Whitney, co-founder of RookieMoms has a grand vision for her app. An ambitious goal of making new motherhood less lonely and more filled with wins.  WAZE had a vision of getting people from Point A to Point B the fastest possible way. MeMeTales has a grand vision to get kids to fall in love with reading.
What is YOUR big vision? And what pain point are you addressing? Even entertaining someone for 5 minutes a day is a big vision.
It is okay to have a mission/vision that someone else has. Just  figure out how you will do it way better than them.
Question 2 :
WHO IS THIS APP FOR?
The second honest question to ask is about your user. Who is your app user?
Is it a new mom who has a child under the age of 1, is it a person commuting to work by car, is it a child between 2 – 6 years of age. Be as specific as possible about who your user is.  And then ask yourself  how  your app make your user feel?  And who is your anti-user? Who is your app NOT intended for?
If you do not know what or who your user looks like, you cannot build a product that makes that person's life awesome in some way.
Question 3 :
WHAT WILL I HAVE IN MY APP THAT WILL MAKE IT AWESOME?
Question 3 is meant to challenge us to go a little bit deeper and figure out how exactly your app will differ from literally a million apps that are all out there?
What is that ONE thing your app will do really really well? What is the ONE thing it will be the best at?
The Toca Boca kids apps are amazing in so many ways, but the thing I think they do incredibly well is "connecting with the child for imaginative play". One of the ways their apps achieve this by having a "non-language" language in their apps – sounds that kids hear in response to everything they do. This amazingly seamless experience is replicated in all their apps and works wonderfully across language and cultural differences.
The Moto-X is the first phone that wakes up and responds to voice so wonderfully. Flipboard creates an amazing reading experience. Waze is insanely useful.
What will make YOUR app awesome?
Question 4:
HOW WILL I MAKE IT HAPPEN?
If you nailed the first 3 questions, then answering the HOW will really give you a perspective into how successful you will actually be with the execution.
The HOW questions fall into 3 primary categories – the testing, the money and the marketing.
How will you test your product before building it and after ?
Do you have a minimum number of your target users to help you test your app? You don't need a huge number of users but you need to prove in very quantitative terms that your users LOVE your app. If you test your app with just 50 users and  40 come back to use it every single day over a period of your first month of testing, you are in great shape 🙂
The money questions? How will you finance building your app? How will you monetize the app?
If you don't have answers to the money questions now, then you will never really have them. So force yourself to think of all the creative ways your could monetize your app. Will you have brands sponsorships to monetize your app? Will you raise investor money to build the app? Will you sell your app to schools? Unless you are a HUGE brand building apps from your marketing budget, you should definitely answer the money questions before you move forward.
Jadah Sellner of Simple Green Smoothies has built her incredibly business from scratch over the past year. She has a huge community of users she can test her app ideas with. However, she is waiting on finding the perfect monetizable app idea.
How you will you market it your app?
App stores are crowded and while you can hope that Apple will feature your app, you cannot be sure. I have talked about how to market your app here in the past. Do YOU know how you will tackle the marketing challenge?
A Beautiful Mess is an app that is built by a blogger. She clearly knew that her blog community would be key to the success of her app. Whitney Moss at Rookie Moms is an active blogger who is connected to a number of influential bloggers. That will be a hugely helpful when RookieMoms release their app eventually.
QUESTION 5:
WHAT CAN I LEARN FROM OTHERS?
The truth is that people have been building apps for a few years now and a LOT of mistakes have been made. It will be a shame if you made the same mistakes all over again. So ask yourself what you can learn from others and learn as much as you can. Ask everyone who has built an app about what their top advice for you is. Ask them what mistakes they made in the process of building their apps.
Read a LOT. Read about app marketing, app outsourcing, cost of making apps, app store numbers, building top selling apps and more.
Here is some wonderful advice from a number of app developers.
"Never ever be afraid to experiment. If something doesn't seem to be working, it probably isn't"  – George Karavias, founder of Anlock Apps
Learn to say no. ~ Björn Jeffrey, Toca Boca
The real hard work begins 4 weeks before the app is live – don't underestimate marketing. Kristin Heitmann from AppMedia
Don't keep investing in an app that is not succeeding, move on to the next idea and create another app ~ Neta Haiby from Kids1stpuzzles
Education should be more than teaching math and literacy. It should provide a challenging and stimulating environment where children obtain knowledge through active exploration and interaction. An environment where they can use their imagination to reveal their true inner self; a world infused with purity and creativity. ~ Elpida Voulgari  of Avokiddo

Strive for making quality products, but to think about the development time and try to keep that short. On the app market, one app won't make you succeed most of the time, but many apps will make your business work. Small streams make great rivers. If possible make shorter apps and reuse art and code for sequels and other similar apps. – Fredrik Sjolin, CEO of  
Tales & Dice
 Ideas? A dime a dozen. Building out your idea? Easy. Getting people to find it and buy it? Difficult. ~ Ann Caldwell Adair from 
http://thinkamingo.com
Quality, quality, quality! The standards in the App Store are high. Consumers expect the app both to work perfectly and have high production values. That doesn't necessarily mean spending a lot more money, but knowing when something looks bad or interacts badly and not accepting it.~ Justin Hughes from 
www.app-patch.com
Are you ready to build your app yet? Part 2 will be coming next week, so keep an eye out!
GoDaddy launched a new brand strategy last month that revolves around small businesses. 'It's go time' is a comprehensive company-wide messaging transformation supported by a refined GoDaddy user-experience and reinvigorated products sharply focused on helping small business owners.  Check out this article by The New York Times [x.co/GoDaddyNYT]