I have had a lot of people ask me about how to succeed as a woman entrepreneur? Do they need to turn into a techie? Is that their only path to success?
To that I say ….Really??? Do we need more women in tech to see more success for women entrepreneurs? I hate this question because it is so ambiguous. But I will answer it anyway.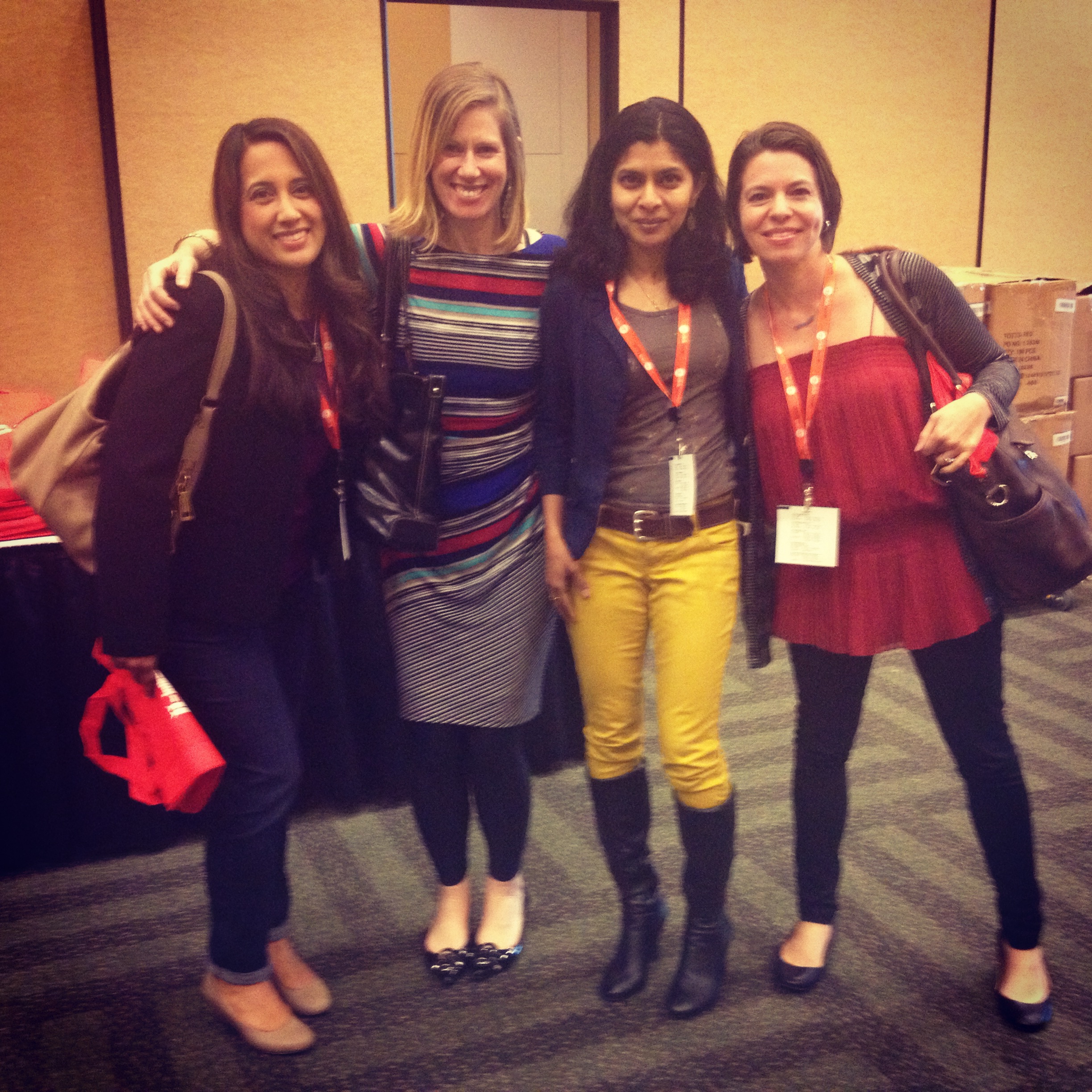 Chrissy, The OutLaw Mom, Lisa Stone co-founder Blogher, Myself and Jory, co-founder of Blogher
No, we don't need more women in tech. We already have enough of women starting tech companies. We already have enough women who love and work in the field of technology.For starters, we just need these women to just accept that they ARE women in tech.So then, do we need more women to become technologists and software developers? No way! (Do we need more little girls exposed to science and technology (STEM)? Sure, but that is a topic for another day, however. )What we really need is more women doing more of what they WANT to do. Is tech/coding something women want to do? Then yes, let there be ways to get more women into software development.
If tech is something women do not want to do, then let us not make women do it. What we really need more of is empowering women to do whatever they want to do.
If you are an Entrepreneur and you happen to be a woman, then what is your best path to success?
It is simple really, it is no different than what a man's path to success looks like.
So, if you are a woman and you don't know much about tech, but you are looking to start a tech company/startup or small business, here is my advice.
Unless software development is something you want to do for the long term and have someone else come on board as the CEO of your company, do NOT try to become a software developer at this time. Unless you are sure you want to invest a year into your new career in software development, you are wasting your time and energy. I have had a career in technology and software development, only to move away from full time software development and focus on running my company. And why was that? Because there is just no way I can do it all. Being a CTO and CEO of a company that has real customers, technology and partners is just not possible.
If you want to accomplish something that requires the support of technology, I really do not believe you need to go to coding school. In fact, I strongly believe you should not.
Professional women starting companies and small businesses typically have years of education and experience in certain fields. Learning a few basic technical skills is okay, but please do not confuse the marketer in you into become a technologist, or the  great product person in you  to become a coder and so on. It is inefficient and a waste of your time.
So, as a woman embarking on a tech startup or a small business, what should you do?
Here is what I think you should do –
1. Get the basic skills to do your job as a business owner and entrepreneur.
There are few basic skills you need to be an entrepreneur – learn to sell, learn to hire and learn to set up a website. These basic skills are all about being resourceful. As the founder of a company, the success of your company depends a whole lot on your ability to sell your ideas, your product or service. Next, realize what you need co-founders or partners for and scramble to find the right people to complement you. The first few months into a startup is really about proving a need and figuring out that there is a market for what you are doing. That is why, early on, it is also super helpful to have the basic skills to get a website up a running. You need basic skills to start a blog and throw some google analytics. Perhaps integrate Mailchimp into your website and start a newsletter. But really, not much beyond that.
This is why I got all excited when I heard that GoDaddy is moving away from their crazy ads and moving into helping Small Businesses succeed. They have a new CEO and a renewed focus on product improvement and you will have to check it out. Super simple way to get a domain and have your own instance of WordPress. What is more, no worries about scaling, traffic and security, GoDaddy takes care of everything.Get a domain on GoDaddy, get a designer to design a unique and classy website for you and get started on validating your new startup idea.
Believe me when I say it could take a whole year for you to just prove out that you have a viable business idea. During all of that time, all you need is a website and a lot of hustle. Look at SimpleGreenSmoothies – more than a 100K people are signing up for each of their monthly challenges and what do they have? Just a website, really. The Muse is a website that started as a newsletter.
You can get very very far before you need to start creating a tech product.
2. Learn to think like a technologist and be curious.
You don't want to be a developer, but you need to know how to communicate with one. When you think of a tech product you might be building in the future (app, website etc), you need to understand what this product will be, how it will work etc. As the CEO of your product, you are a Product Manager. To be a good product manager of your tech product, you need to learn to think like a technologist. This means, you need to take some time and read about latest technologies. Read about the latest gadgets, upcoming cool tech trends and so on. You need to be curious about all things technical.
When I started MeMeTales, I was starting a company in the publishing space. Which meant, that by definition, I had to be extra-curious about all things publishing. If you are starting a company in the fashion/tech space and you are not technical, it is only common sense that you need to be extra-curious about the latest in fashion/tech, if you are starting a company in food-tech, you need to be extra-curious about food-tech and so on …
3. Fill in the gaps
If you are new to the startup space, there are a few other things you might need to succeed in the long term.
Building relationships, meeting possible co-founders and so on. While I am not a huge fan of networking events, make sure you go to a few that help you meet a few good people. The people that might become your community of investors, advisors and so on. Get into a organization like Women Startup Lab who bring in amazing coaches to train entrepreneurs and bring together some amazing women entrepreneurs. Women2 has a lot of great events too.
4. Find your community.
Finding a community of similar entrepreneurs can be key to your success. Having people you can share ups and downs with is so important. Besides the fact that 500Startups makes investments, I like 500Startups because it gave me access to a community of founders that I always have access to. I can ask questions, request intros and more. The App Developers Group and MomsWithApps communities are incredibly valuable for developers of kids' apps. HackerDojo is a co-working space that costs you a mere $100 a month and you will run into some legit entrepreneurs there. It is at HackerDojo that I first met the founders of ActivityHero. Founder Institute is an early stage accelerator with an active local and international community. You have lots of choices online and offline!
5. Be aware of your weaknesses
Goes without saying and seems so obvious, but in a startup environment it is easy to forget what you are really good at and what you are just faking since you have no other choice. Always be aware of the areas that are super hard for you – so you know when to reach out to the people who are awesome at them. That is about it. All the best with your startups and small businesses. Starting companies and taking them forward requires a lot of courage and if you are on that path already, you are mighty brave. Just own it and move forward. Do not let anyone confuse you into thinking you need to become a developer to succeed as a tech entrepreneur. What you need to be is honest, incredibly resourceful and ruthlessly efficient. The rest will follow.
Go forth and conquer!
Need more proof that you don't need to be a coder to succeed? Check out these amazing women entrepreneurs –
Tracy Osborn is the Founder of WeddingLovely
Founders of The Muse
Rashmi Sinha, co-founder at SlideShare
Victoria Ransom, co-founder of WildFire Interactive
This post is sponsored by GoDaddy. I am so relieved that GoDaddy is finally understanding that success for them is all about making small businesses succeed. They are doing away with their infamous GoDaddy Girls and are completely focussed on helping small businesses kick-butt. Besides changing their marketing, they are also making sure their core products make it super easy for small businesses to get set up and run without all of the usual and cumbersome set up issues. And to top it off, GoDaddy wants you to know what you think about their new direction. You can give them your opinion here.