I love happiness and I love pictures. So here goes –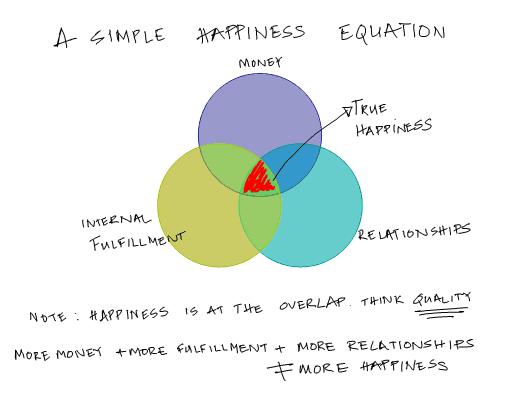 To be truly happy we need to focus on quality – on the region of overlap.To be truly happy, we need to be pushing these circles closer and not spend energy on necessarily making them bigger. Makes sense?
Might explain how people with much less money and much fewer relationships seem infinitely happier than those with LOTS of money 🙂
Enjoy and do not forget to share YOUR thoughts on this matter!
And while you are at it, do not forget to contribute to my Happiness Quilt Project
If you have enjoyed this article, I would really appreciate it if you could stumble/digg it.

Please remember to subscribe (it is free!) or sign up for email updates of my future posts
If you are a parent/author/writer or illustrator and would like to participate in the beta for Memetales, send me an email at m@thinkmaya.com or fill the contact form on geekdance.com.